Yes, folks…
Another fucking moon post.
Fun fact: (since you know I loooooove word roots…)
Lunatic comes from: "Middle English: from Old French lunatique, from late Latin lunaticus, from Latin luna 'moon' (from the belief that changes of the moon caused intermittent insanity)." -I forgot to site this reference – see Google…
What that has to do with today's post is beyond me, but bear with me (not oso conmigo 😉 ), it's a-coming…
So until I make a point worth reading, I defer to the Latin lunaticus definition of one who is "of the moon" or "moonstruck" as an appropriate epithet for yours truly.
Now that we have that cleared up…
Today's lunar phase is known as the third quarter moon… which happens to be the mid-point between the full moon and the new moon.
And…
If you really want to nerd out on it, the third quarter moon is the point between the waning gibbous and waning crescent stages.
But that's me just trying to sound smart. I could go into the position of the Sun and Earth, but this is not an astronomy lesson…
If you really give a fuck, check out the below graphic…
And now for a little theme music (do yourself a favor and read the lyrics to this song)…
And now that you may be totally confused following the flow of my meandering stream of consciousness, I think we can begin…
Ahem…
The Teacher Has Become The Student
It's about fucking time, right?
When I started this little life journey, Sacred Calling, blah-blah, rah-rah blog, I really thought I knew some shit.
I was fired the fuck up!
I believe I coined the phrase, "Where trauma-informed care meets David Goggins."
It has a ring to it.
Albeit, it's probably a serious copyright infringement, and I can't sell that (for obvious reasons).
But fuck! (get your mind out of the gutter, I said, "but.") 😉
I thought I had found the secret to life!
I was sooooo sure that my new-found enthusiasm, mindset, and push-through-pain mentality had conquered my trauma and other auxiliary handicaps.
All you gotta do is get up at 4:30am, do a million burpees, and stop being a pussy, right?!?
Side note: I do think we need to change that phrase because technically, a vagina is much tougher than a pair of balls…
But (as is my youzh) I digress…
Okay… back to the point leading to other points…
I REALLY hoped that I had figured out the magic recipe for feeling happy for the rest of my life…
And I did, sort of.
The part I blissfully disregarded was that I (as well as anyone else on planet Earth) have more internal work to do…
So to bring this back to what the fuck this has to do with the moon, according to the inter-webs, "The Last [Third] Quarter phase is Active and Responsible. It is about reorientation, transition and completion. It is the time in a cycle to take closing action, to follow-up and complete the activities begun at the New phase. The function of this phase is manifestation." –zodiacarts.com
Yes, I emphasized the part about manifestation because I like thinking I have that kind of power in my life, but the internet clearly wants me to focus on the words active and responsible.
Okay, if I have to…
So what exactly am I reorientating, transitioning, and completing?
Well, young Bucky, my fucking intention to heal, goddamnit!
What I've realized while writing this blog (more less than more lately) is that I am not an expert by any means, and I have been duly rewarded with a heaping helping of humble pie.
And…
By (quite frankly) finding the pain, I have found a greater willingness to seek help.
As I've undoubtedly mentioned before, I've found myself (once again) seeking support for codependency and love addiction. Boy, I sure love telling you all that…
And, the symptoms of codependency and love addiction are firmly rooted in a history of childhood trauma…. yay…
So, I've been going to a lot of support group meetings to deal with that fun flavor of dysfunction and have applied for health insurance in the hopes of finding another therapist.
Also, I have been listening to some wonderful podcasts and an ebook (I mentioned them last post – https://greenleaf4life.blog/2022/07/14/full-super-moon/).
And…
I've been talking with a few of my peeps on the regular and that has helped.
Besides that, I've come to realize I have no real routine since I quit my job (besides CrossFit and 12-Step meetings), so I've been floundering a bit.
This week, I made a to-do list and actually busted out my calendar to schedule various activities like writing this fucking blog and trying to make some money to support my ass…
Today, I resumed my 4:30am wake up and actually ran for six miles in the deserty hills outside Phoenix. #dohardshit, right?
Even The Pattern told me to run!
Whether you believe this woo crap or not, it floats my boat, and that's all that matters.
Coincidentally, this damned app also told me to stay single through the rest of the year and to deal with letting my old codependent relationship patterns go…
So there's that.
Don't Just Do Something,
Stand There!
But…. (or we could say And…)
Despite the flurry of activities, I have become acutely aware of some painful-ass feelings… (punctuation's important here) 😉
Frequently, I want to run.
Run into the arms of my ex or whomever will have me (I know that sounds pathetic).
I've also been staving off the impulse to run to another state, another country, start smoking again, getting a (real) job, et cetera, etc.
The problem with all of that is that the person I am running from is me…
And as you well know, wherever you go, there you are…
Over the last couple days, I have come real close to reaching out to my ex despite our agreed upon boundary of no contact for the next few months.
I have found myself chronically checking my email – hoping to see a note of reconciliation.
I have looked her up on LinkedIn, and have been rewarded with a notification that she in-turn did the same.
Perhaps we will still work things out?
But the point is that I am coming from a very needy place right now, and regardless of how much I crave the bejeweled Holy Grail of attention, affection, and approval, that is not the energy I want to start (or restart) a relationship with.
So I've been sitting with some very uncomfortable feelings as of late.
The other day I journaled that I feel like I am being punished and am unlovable because I am not a good person.
Isn't that a doozy?
And yes, I wept bitterly while sitting with that little gem of cancerous core beliefs…
How old do you suppose the person inside of me is that still thinks that way?
Three? Four?
It's no wonder I want the loving embrace of just about any woman right now.
I've got a very young, wounded person inside of me desperate for attention and (quite honestly) safety.
And…
He wants to make the decisions about my love life.
If I looked hard (not that hard), I know I could find someone codependent enough to be my mom-wife…
There's plenty of willing participants for that dance of death…
But….
I
DON'T
FUCKING
WANT
THAT!!!!
Regardless of the what the little guy (inner-child) inside of me is begging for.
So…
You may be asking what the fuck do I do with that? (my feelings, not the pic)
Well…
I chose to sit and feel that fucking feeling with some degree of humility and self-compassion.
I begged my Higher Power to be there with me.
And the thing is, I've given the Almighty a lot of lip service over the years saying a bunch of empty-ass prayers I didn't really mean…
But when I hurt like this, I'm praying to high Heaven (if there is one) for some fucking relief.
And…
I felt some relief.
I was overcome with a feeling of Presence, Compassion, and Love.
I knew I was not alone.
And…
I became grateful for the awareness of that young core belief and for feeling that spell of pain.
I knew deep inside of me that by sitting still, feeling that, and reaching out to the Spirit of the Universe that I am, in fact, healing…
The feelings passed, and I was able to dust myself off and re-engage with my life.
And I didn't have to rely on some outside source of comfort to do it.
All that I need is within me.
Yes, I've had some urges to reach out to my ex (because despite my maladjusted relationship patterns, I do actually love her)….
And…
I respect the process today of healing and honoring boundaries.
Am I out of the woods of healing trauma and grief?
Fuck no!
But, I've made some strides this week and am feeling much more in-line with my path of recovery.
My feelings and thoughts come and go.
And I am right where I'm supposed to be.
This is a Test, This is Only a Test…
That's just a little throwback for my more mature(?) audience members….
You're welcome 🙂
Okay…
My concept of a loving Higher Power does NOT include some big dick in the sky who tests me.
Like I said earlier, mine loves (and holds) me.
However, I think that life if rife with challenges, temptations, and let's face it, tests….
Seeing my ex on LinkedIn was definitely a temptation and a test.
Granted, I initiated it because out of missing her, I looked up her profile…
I know, I know… Shame on me…
Just kidding…
No shaming here…
And… I grant myself the indiscretion of checking her profile and using the S-word.
I did not reach out to her after I noticed the return gesture in my notifications.
That's a win.
Also, last week a woman in one of my support groups (ironically for love addiction) asked me if I was open to exchanging numbers.
And…
[dramatic pause]
I politely told her, "No."
As much as I hate to admit this to y'all on the inter-webs, I do not consider myself emotionally ready to have a mature platonic relationship with a woman without somehow drifting into romantic obsession.
It doesn't mean that I don't have such relationships in my life.
It also doesn't mean that I think (as the adult me) that I am a bad person for having a desire to connect romantically with someone. After all, it is a very old fucking instinct for we humans – ergo it's pretty natural and not something to be ashamed of…
But it does mean that I get to be very intentional and aware of the noise inside of my head.
I don't know if there is some magical fucking arrival place of not wanting a romantic partner (I'm not holding my breath here)…
But it would be nice to feel like I'm taking care of my own needs and it doesn't feel like an addictive impulse.
The benefit of this awareness and recovery is that I find myself becoming much more discerning about the future Ms. Right.
I'm also getting to explore more of what makes me happy instead of trying to tailor my interests to someone else's in the hopes that they will not abandon me.
Side note (and pro-tip): Children get abandoned, NOT functional adults.
Chew on that for a minute…
Another area of temptation I've needed to be especially mindful of is my renewed interest in roller-skating.
I loved doing it 30 years ago and have recently started going to the rink again.
And fun as it is, even then it was about the "look at me."
I enjoy it so much I bought my own skates, and like a bicycle, it's coming back to me… Plus it's great exercise.
However, the adult-skating atmosphere is a regular roller orgy…
The revolutions of polyurethane wheels, sex, sweat, music, and ego rhythmically swarming like a microcosm of desire are, to say the least, a slippery slope.
Or it's just a skating rink and all that shit's just in my head… ¯\_(ツ)_/¯
I'd be lying if I said I didn't want to be noticed while frenetic in the fray of fantasy on four wheels on each foot.
And…
None of those women are my type.
I'm not even my type's type…
And that's okay…
I think (and hope) it's good practice to just go to the rink, be aware of the very human urge to reproduce and be loved, be aware of the little kid in me trying to find mom, the teenager inside of me trying to find the spider-woman (I'll elaborate on that another time – just think goth girl for now), and the recovering adult in me that just wants to fucking skate like a kid and have fun.
And Now for Something Completely Different…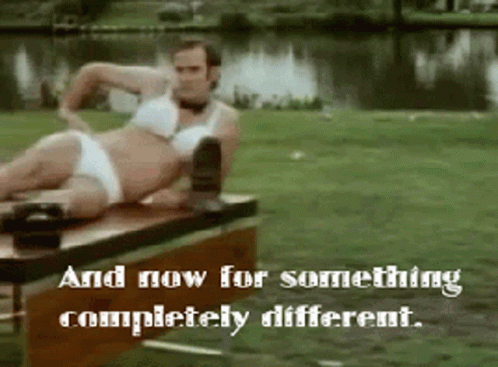 While running this morning, I had a thought come back to me I've been chewing on… And noooo… it's not wearing women's underwear.
I noticed that various things I do are geared towards attracting someone.
Whether it's the clothes I wear or the style of my hair.
I am toying around with the idea of shaving my head until I am ready to date again.
I've shaved it before to support my former brother-in-law's bout with cancer.
My shaved head was not well received by my ex-wife (still married at that time).
I do not see myself as very attractive with a shaved head and am aware of my fear of becoming bald, and therefore unattractive.
I also do not have an income right now and cannot afford to get my haircut regularly….
So…
I'm considering shaving it to lean into letting go of my appearance as part of my identify – and moreover a source of attracting attention, affection, and approval.
I've been considering joining a monastery anyway.
So, maybe shaving my head and continuing to focus on God and my recovery will be the symbolic push I need to stop this incessant head noise chatter about being noticed.
Maybe that's just wishful thinking, too, and I'll just have a shaved head and still feel lonely.
Who knows?
More will be revealed…
And it may very well be my bald head…
Conclusion
So before I go shave my head to perhaps foolishly attempt to fast track healing through self-induced exposure therapy, let me leave you with this…
My head will look like the moon after I shave it!
No….
That was just a random thought that interrupted the otherwise nonsensical philosophy I was about to dish out…
For me, my recovery includes ritual, acknowledging turning points, and honoring commitments.
Using the moon phases as reference (ritual), I can see that I have made progress in my recovery by changing my behaviors (turning points) which include but are not limited to, reaching out for help, setting no contact boundaries with people in order to focus on me, praying, meditating, using EFT therapy, listening to podcasts and ebooks, exercising, admitting and accepting certain core beliefs, practicing letting said beliefs go, finding what brings me joy and doing that, and showing the fuck up (honoring commitments).
All in all, these last few weeks have been a growth period for me.
I wish I had some more inspiring way to close this post out, but I don't.
So all I can say is to find your tribe, dig deep into what makes you tick, find someone to guide you along the way, find out what makes you happy, and do that shit!
During an interview for my podcast, a good friend of mine left us with two gems…
Live simply so others may simply live.
Climb the mountain so you can see the world, not so the world can see you…
I encourage you to listen to episode eight of my podcast to hear more of the simple, life-affirming brilliance of my guest.
As you look to the night sky, remember the words of Og Mandino, "I will love the light for it shows me the way, yet I will endure the darkness because it shows me the stars."
Be well…
Thank you for reading another installment of Greenleaf4Life. I appreciate, you, my fellow travelers on this journey! Please like, comment, follow, and/or reach out! I offer Life Coaching services and will be hosting a free workshop on July 30th at 2PM Pacific Time. Email me for the Zoom link at davidgreenleaf4life@gmail.com
Be sure to check out the latest episode of the podcast featuring our first ever guest!
You can also follow me on social media:
Instagram @greenleaf_4_life
TikTok @greenleaf4life